I'm still in search of the perfect shoes for DS. He wears mostly soft sole shoes outdoor (he stays bare feet at home) unless the floor is wet outside.
I've tried three brands of soft sole shoes: Bobux, Blue Inch and Star Child.
Fit
The Bobux and Blue Inch fit DS wide feet well. I like the Blue Inch better as the ankle area is narrower. The Bobux is wide all the way. The fit of Star Child is very poor, the toe shape is quite pointy so the shoes appear to be too long even if actually they are not. The sole is very narrow. Unless your kid's feet are narrow I do not recommend these. I had to cut holes and clip here and there to make them fit.
Material
The Blue Inch has the softest leather, as I still have to test them outdoor I don't know how well they will last. The Bobux's leather is not as soft, but they are incredibly hard wearing. DS has used them for months in the park and beach and they have withstood all the tearing. Star Child has the most rigid leather but at the same time the most fragile one. Holes appeared after I think about two months of use (if not less).

Customer service
I have only ordered directly from Star Child, the customer service is fabulous. I ordered two pairs and one pair was faulty and they sent out a replacement pair immediately.
Sizing
I find all these soft sole shoes to be untrue to sizing. They are always shorter than the declared insole length, especially after some uses. The leather molds to the shape of the feet and they can get 2cm shorter than the declared length (e.g. a 16 cm declared insole length measures only 14 cm long). In particular the Blue Inch runs small. Order at least one size up (e.g. If you want a small, order a medium, the actual size of the medium will be the declared size of the small).
Now we come to non-soft sole shoes. If you have heard about preschoolians, think twice before ordering. This company seems to have good reviews some years ago. I have ordered one pair from them. After numerous complaints and nearly one year of waiting, they still have not sent me any shoe nor refund. I don't know if they ship any shoes at all since 2012. Buyer beaware. If you search in google with "preschoolians" and "delay", you will find numerous complaints from other people as well.
I have wanted a Waldorf playstand for DS for a long time. This is what DS's grandpa has made for him: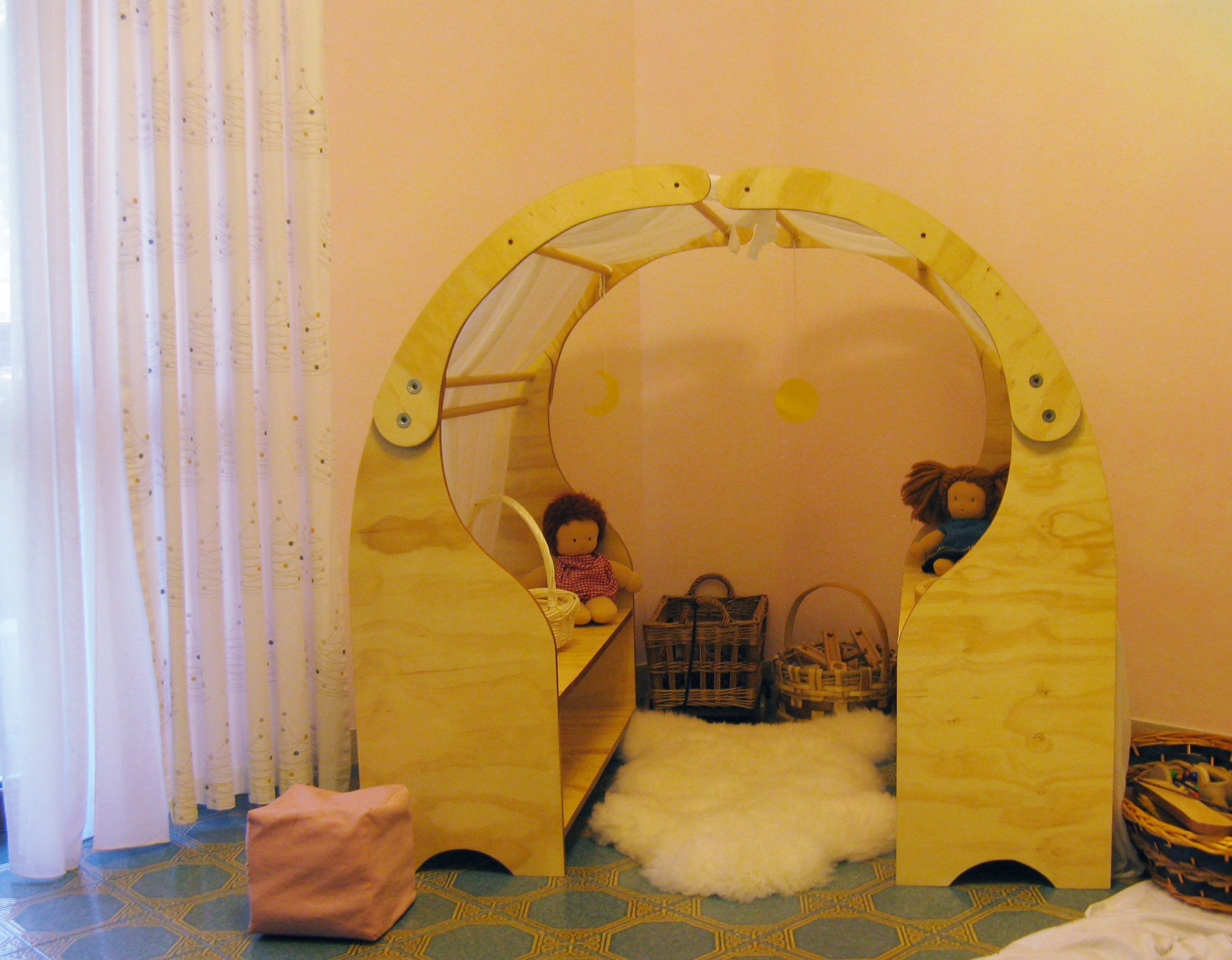 I drafted the shape on paper and gave my father-in-law the measurements. It wouldn't be bad if making furniture is as easy as drawing on paper. DS loves it even though he doesn't like to put toys on the shelves. His main interest is cleaning the house.
I've made the canopy from silk voile' that I've got from worldofwool.co.uk. I buy wool from them to make Waldorf stuffed toys as well. They cost much less than Waldorf specific shops.